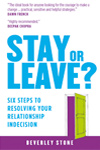 Stay or Leave? Six Steps to Resolving Your Relationship Indecision
Published 2012 by Watkins Publishing in the UK and Sterling in the USA

Order Stay or Leave from Amazon
This is a book for people who are tearing themselves apart, unable to decide whether to leave their partner or stay. This dilemma feels terrible, dominates their life and is constantly in their thoughts. Because they can see both sides of the argument, this constant swinging from go to stay leaves them mentally exhausted, emotionally drained and physically ill.
They may have been on this dreadful seesaw for weeks, months or even years. Finding the courage to change their life and cross their 'Rubicon' can be very hard. The potential repercussions seem overwhelming. Whichever choice they make surfaces fear and apprehension.
So why should they even think about exposing themselves to such pain? Because the alternative is that, by remaining the same, their life will always be as unsatisfying as it is now. So, the book shows that the reward of finally becoming the person they want to be, of living the life they want to live, is surely worth the struggle.
It shows what will happen if they remain indecisive. It confronts them with the deepest fear in the human psyche ­ the terror of living a wasted life. They are wasting their life by constantly vacillating. And they know it. By keeping this thought in the front of their mind at all times, the reader will finally find the courage to get off their seesaw once and for all.
The 64 Million Dollar Questions posed in the book will encourage the reader to hold a mirror up to themselves, challenge their current beliefs and assumptions and help them develop a new perspective. This perspective is encompassed in the 6 Life Changing Hurdles that readers must overcome if they are to have a fulfilled, rather than a wasted life:
1. Be Authentic – take the risk of being yourself (not what everyone else wants you to be)
2. Accept anxiety as a positive, fundamental human experience (stop giving in to it)
3. Make your one and only life a meaningful one (not one that you'll end up regretting)
4. Take responsibility for your situation (no blaming others)
5. Be aware that you always have a choice (you're not as trapped as you think you are)
6. Live by your own values and standards (not everyone else's)
Armed with this newfound philosophy along with practical tools and techniques on how to change attitudes, thoughts and behaviours, the book will make it clear which decision they should now take to either stay, but in a radically improved relationship or to leave and make a new beginning. Either way, their dilemma will have been resolved.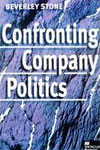 Confronting Company Politics
Published by Palgrave Macmillan (1997)

Order Confronting Company Politics from Amazon
Confronting Company Politics provides a framework to understand the complex reasons for the unwillingness to either stop playing politics or to confront and deal with those who do so. Using relevant case studies, it proposes a methodology to establish real personal change and demonstrate how long term organizational change can be implemented successfully.
Company politics can make organizational life miserable, unrewarding and pointless. Rather than openly confront the situation, however, people prefer to complain in private and thereby collude with the saboteurs in perpetuating their power and control.
Confronting Company Politics, based on Beverley's experience of implementing boardroom-down international change programmes, considers why some people in organizations play politics, why others acquiesce, why the balance rarely changes, even after expensive change management programmes, and how to develop the organizational behaviors that will limit the power of non-cooperative colleagues and encourage long-term personal and culture change.
This book is not about changing saboteurs, neither is it just another book on culture change programmes. It is about enabling those with the right values and attitudes who already fit the desired culture to demonstrate them in their actions, despite the saboteurs.
In order to unblock the log jam created by obstructive people who prevent the smooth running of their organizations, the book first helps people understand and then learn how to overcome the existential and psychological blocks of those who play and more importantly, those who acquiesce, in company politics.
The Inner Warrior: Developing Courage for Personal & Organizational Change
Published 2004 by Palgrave Macmillan
Order The Inner Warrior from Amazon
This book is based on Beverley's experience of executive coaching and mentoring and represents a paradigm shift in established personal and organizational change practice. Whereas in the past much effort has been put into overcoming resistance to change, the book shows how many people in our organizations have changed, usually for the worse. It demonstrates that following an initial honeymoon period, people feel constrained, become institutionalized and lose their authentic selves. Far from being positive, the result of this change is a culture of inhibition where individual and collective potential is never fully realized.
The book sets out an alternative philosophy for enduring individual and team effectiveness. It reframes personal and organizational development in the context of courage and courageous activity and describes a 6-stage model for use in accessing The Inner Warrior present within each of us. By using the skills of the model, people learn to avoid and resist the Gulliver Effect, a metaphor for psychological imprisonment. They also learn to use the power that courage brings, in which collaboration and organizational effectiveness remain guiding principles.
Using real-life case studies, The Inner Warrior is for anyone who seeks a healthy work environment where 'values are lived, not laminated!'